Sent from my mobile phone at 9:28 PM: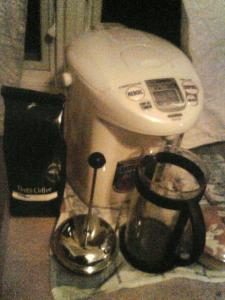 Taken January 29, 2005
Sent from my mobile phone at 9:27 PM: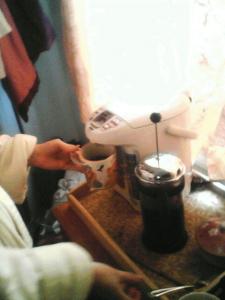 Taken February 5, 2005
Meet our new morningtime gadget, the Zojirushi Electric Dispensing Pot, model CD-LCC40. This is a 4-liter electric kettle we've been living with for four months.
This is very much a Japanese device. You can tell because it days "Made in Japan" on every possible surface in a very prominent typeface. The designers are proud of its heritage, and justifiably so: every electric kettle I found in mainstream American stores, including the gourmet shop Sur La Table, was a simple decanter with electric base that was either on or off. The Zojirushi device is in a whole other class, as are most electric kettles in Japan, where tea is a more prominent fixture. We encountered these types of devices in Ryokans and living rooms throughout Japan when we visited, and the Zojirushi is perhaps the finest example.
First off, the Zojirushi holds four liters of water, a fairly staggering amount, at least to my eyes. It also offers, most crucially, a 7-hour timer, allowing us to have boiling water ready when we wake up in the morning. (After 7 hours it switches to "keep warm" mode, so you can sleep as long as you like.) Anne and I use the kettle to make not tea but coffee, in a French press. We did not want to waste our Peet's grounds on the inferior taste from a drip coffeemaker, so the Zojirushi is as close as we get to convenient automation. The Zojirushi also offers a choice of three temperatures, and displays the temperature digitally as it builds. Finally, it offers an electric motor to pump out hot water at the touch of a button.
The device is indeed very well engineered. It is extremely straightforward to operate, despite the obvious technical complexity. The only problem is that it is designed for a Japanese housewife. The assumption underlying its design seems to be that you will plug it in and leave it running all day, making tea for yourself as you clean the house and for your family members at the breakfast and dinner table. One might switch to the 7-hour timer when you go to sleep at night.
As such, the Electric Dispensing Pot has no power switch. When it is plugged in, it is turned on, boiling water or keeping it scalding hot. The corollary to this, of course, is that in order for us to turn it off before we both leave for work, we have to bend down, reach under Anne's desk and unplug the dang thing. At night, to set the timer, we must bend down and plug it in.
Also, the pot offers no notification when the water reaches the desired temperature. Since one is not expected to turn the kettle on and off, it is assumed you will want to keep the water hot for hours on end. So if you plug it in just to boil some water for tea or to cook steel-cu t oats, you have to keep checking back to see when it is done. An optional notification for boiling water would be nice (outside of the 7-hour mode).
Overall, however, we are very happy with the Zojirushi. Rice cooker aficionados will probably recognize the brand from its distinctive elephant logo, which has become a sign of quality. We are very impressed although, being Americans, can't help but complain and ask for new features. When they're done adding the power switch and boil notification, they can start to work on a French-press-style automated coffeemaker.