One of the unexpected and pleasing things about Japan was how excellent much of the non-Japanese food was. We stopped into a small market in a subway station in Kamiya, a suburb 45 minutes outside Tokyo, and instantly found a trove of French cheeses unparalleled in the San Francisco Bay Area, home to the Cheese Board, Chez Panisse and tens of thousands of self-styled gourmands. Our jaws dropped at two dozen high-quality French Camemberts, most unpasteurized, some cheese aged by noted French affineur (cheese ager) Jean D'Alos, and this was before we passed a basket full of the hard-to-find Vacherin Mont d'Or by the front door, right where a small American market might stack Doritos.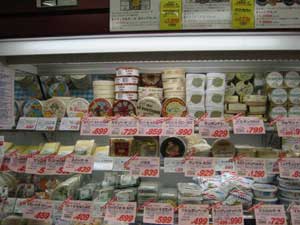 We discovered pretty much any Japanese food purveyor worth his salt offers a superior selection of cheese than most gourmet American and Bay Area Supermarkets and, thanks to an FDA ban on the importation of complex and sublime but unpasteurized cheeses younger than 60 days, can handily best even the top American cheese shops in selection. Another example was Uni, a sort of Japanese Super Target, where we found the same French achievements we had bussed 45 minutes into Tokyo to procure at significantly higher prices.
Our home base in Japan was with Anne's very hospitable aunt and uncle, who live in a pleasant suburb 45 minutes outside of Tokyo called Moriya. There, as in virtually every other stop we made around Japan, including Hiroshima, Kyoto and the town on the closer outskirts of Tokyo where one of our Ryokan was located whose name escapes me, we found patisseries I have come to crave in the U.S., stocked with buttery creams, pastries, cakes, tarts and beautiful Japanese-style ensembles, with bean pastes and rice balls in earth tones and encased in green ceramic, as though it were a dessert you would find under a tree in the forest, left by a pixie. Anyway the patisseries always seemed well-stocked with individual-sized treats, and the ones inside the subway station were equal or only slightly worse in quality.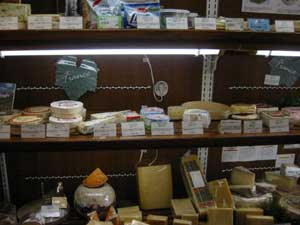 The Bay Area does boast some decent dessert shops, like Masse's in Berkeley and Citizen Cake in San Francisco. But the tend toward either selling large cakes or sit-down meals, with a rather limited selection, especially in individual sizes, and don't always reach for the same heights I found across the Pacific.
All this should come as no surprise, I suppose. Whatever its stance toward immigration, Japan has for some time strived to import the best from the rest of the world.

One relative has already asked, so if any other older folks are wondering: Anne has not left me for a prince. (Yet.) Prince of Persia is a popular videogame, people. :--)