Several months back I read Perfectly Legal: The Covert Campaign to Rig Our Tax System to Benefit the Super Rich - and Cheat Everybody Else, an excellent book by David Cay Johnston of the New York Times.
Johnston has made a career out of doggedly writing about supposedly boring topics like utility regulation, health care and, most recently, the tax code. These are topics newspaper editors, not to mention television producers, have long written off as too boring to be of interest. Too many of them want sizzle to generate buzz and audience "eyeballs" in the short term, rather than the serious, important work needed for long-term success.
In an era where the goal of objectivity is being constantly slammed, Johnston shows that uncovering facts -- rather than coming to pat conclusions and telling the reader what to think -- is the essence of journalism. "I try to look at big issues that I donšt think are being well covered and then cover them," he says in an interview.
This is, sad to say, a radical concept in today's publishing world. And it is, as Anne hints at on her own site today, a key reason when Internet publishing is such an important new development. It provides more eyeballs -- not as readers, but as reporters.

Sent from my mobile phone at 12:47 PM: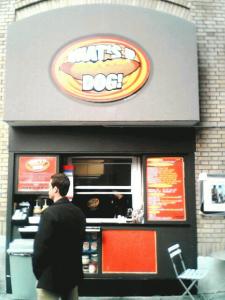 Taken January 26, 2005
Best name for a lunch spot - 'What Up Dog' in downtown sf.